Having a visitor is a good excuse to get to know your city – especially if you've been rather slack about turning your life into the adventure you'd like it to be. The arrival of my Australian friend Courtney led to much

Gotham

exploring during the past week. I hope that after she leave I'll continue to venture out to the kind of activities that make living in New York an experience that future Brianna will look back on in jealousy (making my middle aged self jealous is the best thing about being young). A few reviews of events attended this week:


Wednesday 11/8: Death Cab for Cutie Concert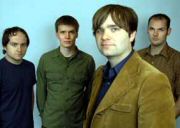 As every teenaged boy knows music makes girls drop their knickers by transforming the unattractive (slightly pudgy, balding, middle aged) into sex gods. Like most easily led indie hipster babes I would happily offer myself up on the alter of Death Cab.
The concert was wonderful. Even though neither of my favorite tunes ("Why You'd Want to Live Here" and "Styrofoam Plates") were played they did do amazing renditions of "We Laugh Indoors" and "Title and Registration" both of which always leave me feeling a bit gooey inside. The concert was further helped by how happy the band was about the preceding days election results ("It may be a rainy day in New York but it's the sunniest day in America in 2 years!"). I was also entranced by the lighting effects (something that I usually can't be bothered to notice) which caused the scruffy hole-filled scrim behind the band to sometimes appear to be a building or a cliff.
A couple of notes on the sociology of concerts (aka Call me when the Kids Get Off of my Lawn, I'm Sick of Waiting).
1. Apparently if you are under 25 and at a concert there is a law that you must take at least one cell phone picture every 2 minutes. Because I am old I do not know what the young'ins are doing with these pictures but if someone sent me 75 blurry shot of some band taken from roughly 100 meters away I'd likely remove them from my myspace friend list.
2. There were 3 youngish (22?) people sitting in front of us (and might I just say "Thanks god for concerts with seats!") – 2 girls and a boy who appear to have been involved in a very progressive threesome-type relationship. The all looked rather wholesome so perhaps this is a sister-wife situation rather than a young and experimenting thing. Either way I felt very out of it.
Sunday 11/12: Amateur Female Jello Wrestling
This is the kind of event that makes you really happy to live in New York City – other places may be able to offer to great bands and good theatre but where else can you see costumed young women roll around in jello for only $3 (well, $3 if you're a woman the pricing was amusingly sex segregated -- $3/women, $7/men with women, $13/men alone). Ok, maybe they offer this kind of prime entertainment at some of your seedier strip joints but this event also offered live bands and a distinct lack of leering old men. I also imagine that at an actual strip club it would be difficult to maintain the façade of superior ironic amusement in the goings on and without that none of the attendees would be able to go on living.
As amazing as this event sounded on paper it kind of flopped in practice. The jello offering was rather pathetic – instead of the foot of lime green goo I was picturing women romping around in we got about 3 inches colorless, sugarless gelatin. Flavorless Jello makes for flavorless wrestling. The wrestlers also seemed oddly pathetic in their attempts to be tough, funny and sexy at the same time – I suspect they were shooting for a dominatrix vibe but it all came out as trying too hard. Like with the WWF (not that I would know, seriously, I have NEVER been on a long boring date to Disney on Ice with a man who was weirdly obsessed with wrestling. Certainly not. I am *WAY* too cool for that) the wrestling was (understandably) choreographed and the girls were not very good at covering – there was a lot of apologizing for accidentally knocking an opponent down and no mystery as to who would win each match. Ultimately we bowed out at half time.
Tuesday 11/14 25th Annual Putnam County Spelling Bee
My international visitor demanding a trip to Broadway and while I had hoped for Avenue Q tickets TKTS forsook me. As a lover of Spellbound (and really any documentary about geeks) I figured 25APCSB was a good alternative (though there were no songs about porn so clearly it was a step down from the puppets).
With the exception of Phantom which I saw at 14 and thus have nostalgic ties to I honestly don't like musicals that much. They often seem forced and overly serious. I've seen Sweet Charity and Beauty and the Beast on Broadway and felt fairly blah about both. Time magazine has an article last week about how the new crop of Broadway shows (Grey Gardens, Spring Awakening, etc) were moving away from the Disney model and if these new offerings are anywhere near as good as 25APCSB I could not be more thrilled.
25APCSB is running in a very small theatre which as been convincingly decorated as a school gymnasium (complete with sport championship banners and cliché team work propaganda (ever notice how there's no I in team? Shocking, I know.)). The ensemble cast does an amazingly convincing job of turning 30 year old starving actors into adorably quirky elementary students.
The stand out of the show was my soon to be husband Barrett Foa who played Leaf Coneybear. Some might say that finding a grown man playing a 10 year old attractive might be a sign of certain Mark Foley-like tendencies but I assure you that Mr. Foa is a big boy who will come to love my dirty dirty instant messages. (I did just look at his website and it turns out that he might like messages from one of Mark's pages more than those from me but certainly I can change him!).
A few up coming NYC events that I'd love to attend (anyone game?):
Buffy Sing-A-Long – There's a rumor that this show will be revived in December and one Ms. Gillian has already promised to attend with me and even dangled to possibility of dressing up – I will be holding her to all promises. All geeks are welcome to join us.
Avenue Q – I'm probably way too cheap to spend $100 on tickets for this but I could be convinced to throw in for discount tickets if anyone is interested.